How NASA JPL's Team CoSTAR is pushing the limits of exploration with the Digital Forge
The Customer
First Markforged user story , The DARPA Subterranean Challenge looks to enhance the autonomy of robotics systems to rapidly explore underground environments — both on Earth and in space. It aims to accelerate state-of-the-art research for the military, commercial industry, and the government. To compete, teams have to develop fully autonomous systems to explore subsurface voids with a dual focus on planetary exploration and terrestrial applications, such as search and rescue in mines, caves and after natural disasters.
Team CoSTAR is a collaboration between the NASA Jet Propulsion Laboratory (JPL), Massachusetts Institute of Technology (MIT), California Institute of Technology (Caltech), Korea Advanced Institute of Science and Technology (KAIST), and Sweden's Luleå University of Technology (LTR). With a team of 60 engineers from around the world, CoSTAR is one of ten teams participating in Defense Advanced Research Projects Agency's (DARPA) three-year, four-part Subterranean Challenge. The challenge comprises three circuits — the Tunnel Circuit, the Urban Circuit, and the Cave Circuit — followed by the Final Event, which incorporates all three environments. If successful, the team would be granted $2 million to go towards funding future research projects. Team CoSTAR has finished second in the Tunnel Circuit and first in the Urban Circuit, and at the time of writing, is working towards competing in the Cave Circuit and Final Event.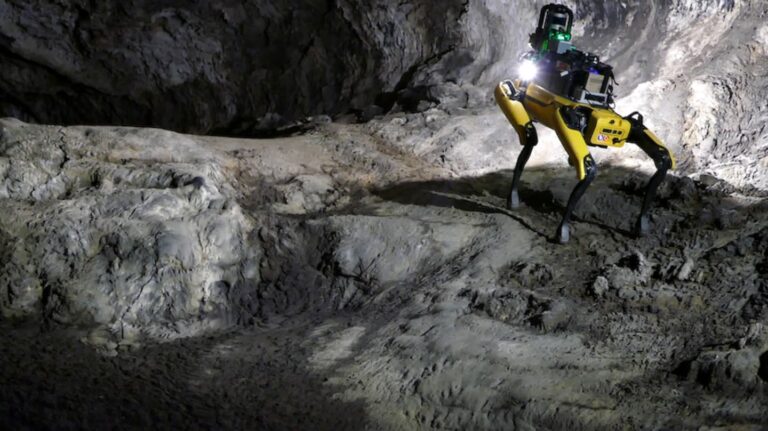 The team's autonomous robots (named Nebula) each have roughly 15 Markforged 3D printed parts
The Challenge
Each circuit's terrain is vastly different. Some challenges are set on rough terrain, some include low-light scenarios, and some even include flights of stairs. The autonomous robots must be able to navigate in poor conditions, which, during testing, often results in them falling down and critical parts breaking. Not only did team CoSTAR need to be prepared ahead of time with an impact-resistant, lightweight autonomous system, but they also needed to perform quick field maintenance for broken parts and rapidly iterate on designs in between runs to keep ahead of the competition. If a part were to fail in the field, it could result in CoSTAR not being able to complete the circuit. The team is frequently pushing into the unknown, so they need the necessary tools to react quickly.
The team is working with Boston Dynamics, and has several Spot robots on loan for the competition. CoSTAR's engineers and designers had to rapidly design and create extra components such as brackets and enclosures to ensure the Spot could successfully complete the circuit. Previously they used wood, machining, or laser cutters to get the parts made. They knew they needed another option to keep ahead of the other teams, and 3D printing was the perfect solution for quick iterations and fixing parts at the point of need.
To address this need, the team brought on a simple PLA 3D printer. However, it was only capable of printing parts that were useful for prototyping, not for eventual production — essentially, the parts weren't strong enough to be used out in the field by a robot going into uncertain terrain with the possibility of critical components being damaged. One crucial example is the expensive lidar sensor on top of the robot, which must be protected at all costs. The material used to protect it must possess great stiffness and vibration dampening properties in order for the signal from the sensor to provide valid, usable outputs. The team also found that their PLA 3D printer was producing inaccurate parts with poor surface finish, so they were spending far too much time sanding down the parts after they were printed. What they needed was a robust system that could be brought into the field to rapidly prototype designs and then print the production parts after testing, without the hassle of time-consuming post-processing.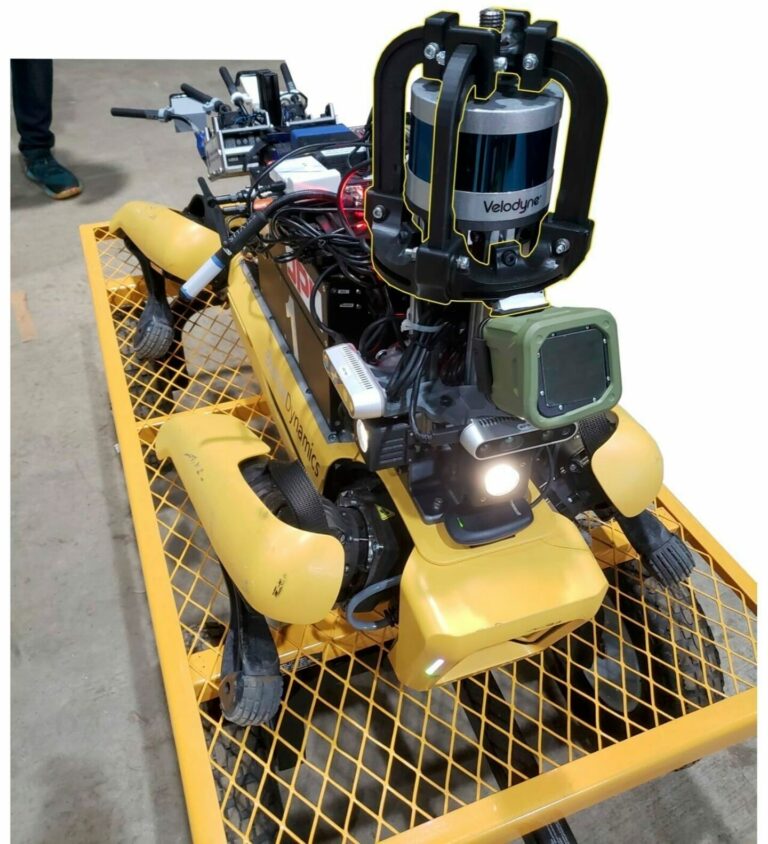 The team 3D printed a 'cage' for their $7,000 lidar sensor, which took a few knocks but was never damaged
The Solution
Fortunately, the team had access to a Markforged 3D printer. As several CoSTAR team members work for JPL, the team was already armed with the knowledge that Markforged 3D printers and powerful cloud-connected Eiger software could produce lightweight, strong, functional parts, without any geometry constraints. The team realized that Markforged was a robust choice to achieve all their requirements. The team found that the brackets and mounts printed using the Markforged platform actually outperformed aluminum counterparts, and were much lighter. On top of that, the parts the team 3D printed on their Markforged printer could be knocked and reused without any failure. The team printed a 3D printed cage for the team's $7,000 lidar sensor using the team's many Markforged 3D printers and continuous carbon fiber reinforced material. While the part took some knocks, the lidar sensor never took any damage.
During the competition, the team increased the number of Markforged printers they had from one to three with the help of Markforged partner GovSmart. Markforged then sponsored the team in 2020 and provided a fourth printer. CoSTAR brought the printers out to the first two challenges, setting several of them up in their hotel rooms to produce parts overnight for field use the next day. Trust in their 3D printers was extremely important for the team, as they would often spend long nights designing parts with the hope to test and integrate them the next morning. Fortunately, their Mark Two 3D printers only delivered quality products.
The robustness of Markforged printers, the reliability and repeatability of parts produced, and the fact that the Digital Forge creates beautiful, functional parts that do not require any post-processing makes Markforged an ideal additive manufacturing technology.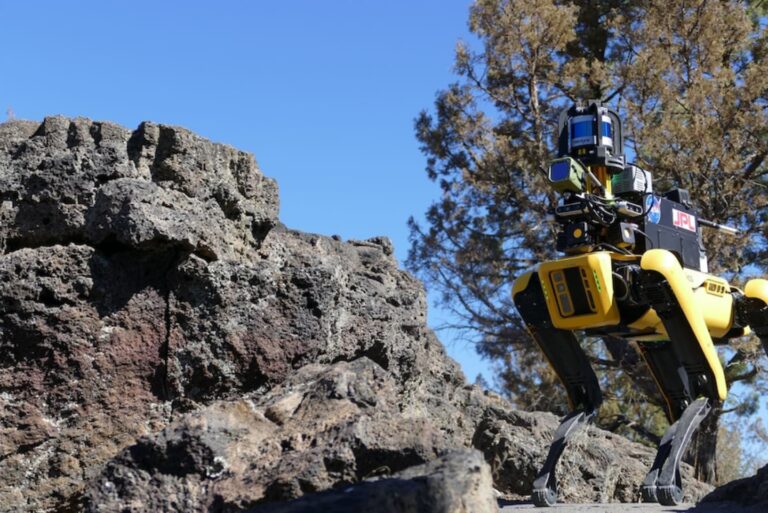 The Future
The DARPA Subterranean Challenge may just be a competition for some, but it's far more than that for CoSTAR. For them, the challenge is a starting point to work towards enabling underground exploration on the moon, Mars, and even some of the moons of Saturn and Jupiter. By building the robotic capability for the competition, the team hopes to enable future NASA JPL missions for exploring underground environments to learn about the development of life, whether there was life on other planets, and if there's potential for human habitation in the future. And additive manufacturing technology is helping them to prove that new technologies can get them there.
Credit: Markforged
Reverse-engineering automotive parts using metal 3D printing technology
The Customer
RPG Industries is a full-service manufacturer working with automotive, aerospace, and oil industry clients. Started in 1995, the company primarily offers EDM, CNC machining, waterjet cutting, and additive manufacturing services.
The Challenge
Robert Ginsburg, President of RPG Industries, continuously looks for ways to stay at the cutting edge in a saturated industry, expand the business, and bring new capabilities in-house for his customers. One such customer — D&D Classic Automotive Restoration — was restoring a 1930s classic car when they found that one of the original carburetors was broken. They conducted a worldwide search for a replacement part but were unable to locate one. D&D then attempted to repair the existing part; however, the original could not be welded or brazed due to the need for an air- and watertight seal. "If you were to try to machine this part from scratch, it would be cost prohibitive," says Ginsburg. "The detail, intricacy, and the internals of the component make it nearly impossible, and the machine part will never look as good as the original."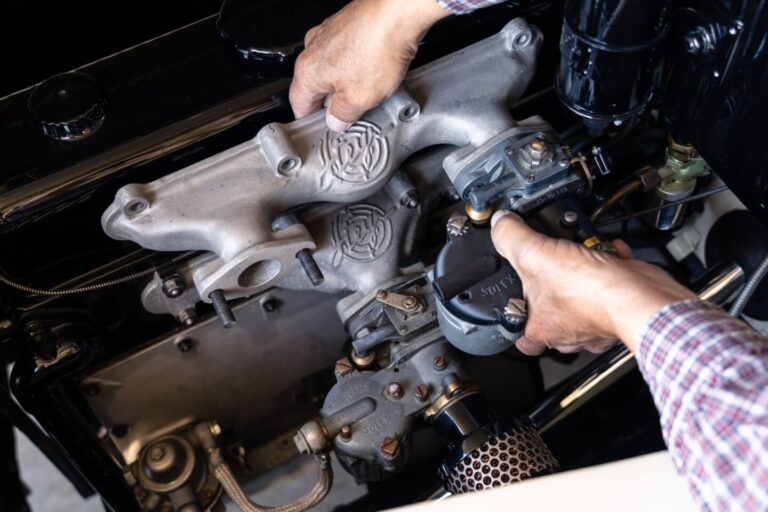 The team at RPG initially printed the replacement part in Onyx, and then printed it in 17-4 PH Stainless Steel.
"When I saw the technology and the price point, I knew that the Metal X would be a good fit for our company."
— Robert Ginsburg, President, RPG Industries, Inc.
The Solution
Robert had been considering adding a metal 3D printer to his business for quite some time; however, he was only familiar with powder-based printers, which did not make economic sense and are prone to workplace hazards. When he realized the Markforged Metal X 3D printer met his price point and was a safer option than other powder-based metal printers, Robert knew he had found his solution. He purchased the Metal X system and a Mark Two 3D printer, and immediately put them to use.
Robert initially used his Markforged Mark Two 3D printer to print the reverse-engineered carburetor cap using Markforged Onyx material (chopped carbon fiber-filled thermoplastic). He then 3D printed the same part in 17-4 PH Stainless Steel on his Metal X printer and presented it to the team at D&D as the final part, who were delighted with the result.
"Having the capability to quickly scan a broken part, make the repairs, and print it out has changed things for us," says Robert. "And the capability of changing materials in Eiger with little-to-no fuss is just one of the reasons we love Markforged." The car was fully restored and is now back with its owner, boasting a fully functional metal 3D printed part under the hood.
Integrating additive manufacturing in everything from R&D to internal tools to production parts
The Customer
Caldwell Manufacturing is a global window and door hardware manufacturer based in upstate New York. "We're an integrated supply partner," says Caldwell Manufacturing CEO, Eric Mertz. "The springs that hold a window or door open, the hardware, the locks, the latches, all the mechanical hardware that makes a window or door operate, that's what we're focused on."
The company was founded in 1888, and spent the first of its years as a hardware manufacturing company. In the 1920s, the company diversified into building-related products. Caldwell now ships to thousands of customers in 70 different countries, and has factories in the US, UK, India, and Mexico. The team is responsible for everything from design ideation to final product — they develop and commercialize Caldwell's components while simultaneously creating injection molds, springs, and more.
The Challenge
For any piece of window or door hardware they make, the team at Caldwell also needs to make holding fixtures, assembly fixtures, and error-proofing fixtures — which were all designed in-house and cut from steel through a third-party supplier. The internal tooling often took up to eight weeks to design and develop, and certain components had to be sourced from overseas, which led to product development cycles of anywhere between 6-12 months.
A single job would require people to look for outside quotes or internal tool room quotes, and any changes to internal tooling were time consuming and expensive, so improvements needed to be significant to justify. "Sometimes businesses just end up layered with bureaucracy," says Mertz. "And one of the reasons people leave their jobs is because they don't feel connected. They don't feel they've got the authority and the resources to do their job."
In the company's strategic planning meeting in 2010, the executives looked at what kind of technologies were going to be disruptive, and unanimously agreed that 3D printing would be the key to their success. In 2014, Caldwell purchased its first FDM plastic 3D printer. "3D printing was a technology that we were watching for a couple of years," says Mertz. "And as its price points come down, it's one of those things that encouraged the buying decision." Initially, the printer was brought in for rapid prototyping, but the team quickly realized that the printer was only able to help them evaluate form and fit, but not function.
"We wanted to put the control within our own hands to allow for quicker iterations on our product development."
— Rick deNormand, Product Engineering Manager, Caldwell Manufacturing
Many of the parts Caldwell Manufacturing needed were made out of metal, and the team found plastic 3D printer filament was not adequate to use when testing the strength of their parts. "The plastic 3D printer that we onboarded really resolved much of our external prototyping needs for plastic parts," says Rick deNormand, Product Engineering Manager at Caldwell. "But what we really needed was to explore and to introduce metal 3D printing as well." Selective laser melting (SLM) metal 3D printers didn't fit the need of the organization, as the use of powder was too difficult to handle and the cost to bring it in was too high. The team set to work looking for the optimal solution: an affordable filament-based metal 3D printer that could easily be used within the facility.
The Solution
In 2017, Caldwell Manufacturing started to look for other 3D printers. Members of the team attended a manufacturing trade show and came across the Markforged platform. After hearing about the company's track record of producing best-in-class printers, they decided to purchase a Metal X system — capable of printing in 17-4 PH Stainless Steel, Inconel, and Copper. "We selected Markforged based on the company's history of 3D printing and basically our level of confidence with them," says deNormand.
Caldwell also purchased a Mark Two 3D printer alongside the Metal X system, which can print in continuous carbon fiber as well as other reinforcing materials. The team initially brought in this printer for R&D purposes, but has since started to use it for internal tooling. The Metal X system, on the other hand, has enabled Caldwell's engineers and designers to print prototype metal parts that would traditionally be cast out of zinc or stainless steel. "The metal 3d printer enabled us to prototype those parts in which we weren't in a position to be able to do before," says deNormand. The same parts that would previously cost anywhere between $300-$5,000 if made using traditional methods now cost $30 and take three days to produce instead of up to eight weeks. The team is now able to test the parts, share them with customers for evaluation, and collect feedback to help in the design of their products. "It changes the design cycle to more of a fail-fast mode," says Mertz. "It really changes your mindset about how we design, the way we test, the way we validate. It changes the way we put products into production. It's changed everything."
"I think it has increased engagement. It's part of our culture now. I mean, it's kind of hard to believe a 3D printer could do that. But I do believe that."
— Eric Mertz, CEO, Caldwell Manufacturing
Caldwell has well and truly integrated 3D printing into everything, from R&D, robotic parts for testing, assembly fixtures, tooling, all the way to post-processed parts for customers. The team 3D prints tooling for the shop floor, and the assemblers can provide feedback and suggestions for improvement. "If an assembler feels like there's a change that needs to be made, I have no hesitation making a change," says Manufacturing Engineer Phillip Cole. "We quickly make a design change, send it to the printer, and swap it out." What used to take 6-12 months to do now takes the team 6-12 days, thanks to the carbon fiber 3D printer.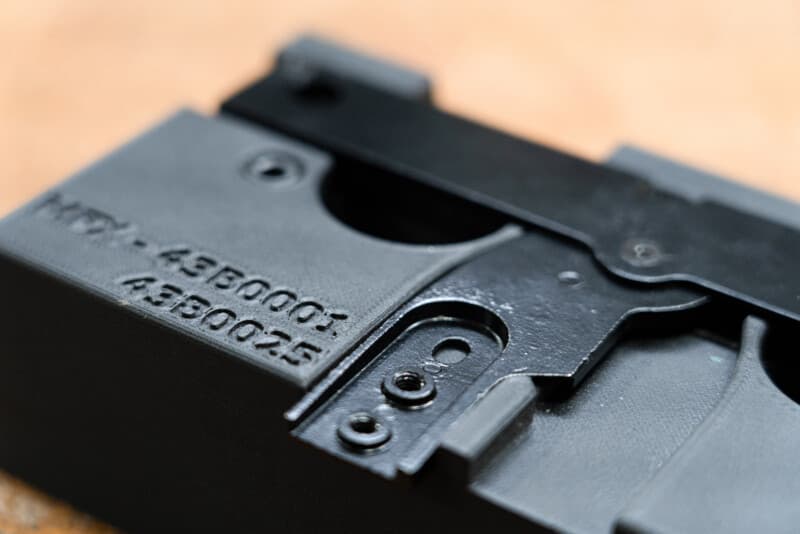 Overall, the addition of these two Markforged 3D printers has removed bureaucracy and added autonomy, according to Mertz. "It's given them the tools they need to put their thoughts into parts," he says. "And ultimately, I think it's bigger than that. I think that those things create more engagement from our employees. It's part of our culture now."
The Future
Caldwell Manufacturing is certainly leading the way in its industry, but the team recognizes that there's still a long way to go. "I think we're just scratching the surface for what the technology is going to do, evolve into, and how it'll change low-volume production for the future," says Mertz. The company expects that in five years, each of its manufacturing plants will have 3D printers for small-volume, low-run, custom-production parts. As of now, they have installed Markforged printers in two of its four North American manufacturing facilities, and have roughly 18 low-volume end-use components being produced using these printers. By the end of the year, the team plans to add printers to its other two North American locations. "We continue to realize the benefits of owning this technology and are genuinely excited about its future," says deNormand. "Our 3D printers have become the most utilized equipment in our R&D model shop. Our new products and assembly processes are more robust, and we are able to introduce them to the market faster."
Credit: Markforged
Shukla Medical
The Customer
Shukla Medical, a wholly owned subsidiary of aerospace manufacturer S.S. White Technologies, designs and manufactures universal orthopedic implant removal tools such as the Xtract-All® Spine Universal Spinal Implant Removal System (see cover image). Their products are used by surgeons worldwide to efficiently take out old implants before replacing them with new ones — all while preserving the patient's bone. Most orthopedic implant removal tools are complicated and require a significant amount of time to operate, whereas Shukla Medical's universal instruments are known for their simple, intuitive design.
The Challenge
Shukla products are engineered for orthopedic surgeons, with time-saving features like quick-connections and multiple extraction options. "It's generally known that every minute in the operating room is very expensive," said Zack Sweitzer, Product Development Manager at Shukla Medical. "So any time you can save is extremely helpful." Operating room costs can range from $35 to over $100, though it varies based on the hospital and surgical procedure. Shukla's tools need to be quickly prototyped and tested by orthopedic implant surgeons to check for form and fit before the final product is fabricated. The team initially prototyped the parts using their CNC machine or sent the designs out to a third party, but found that long lead times were presenting major slowdowns in iterating on prototypes and preventing them from quickly getting their product to market.
"Compared to a traditional CNC, you can try more complicated shapes or take more design risks with the Metal X."
— Adam Gosik-Wolfe, Mechanical Engineer, Shukla Medical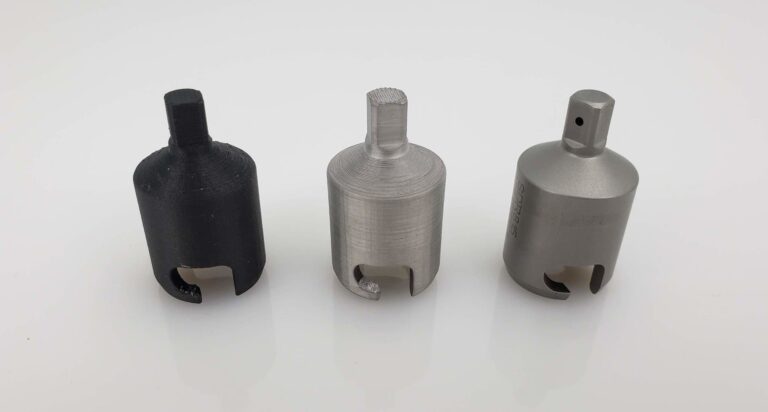 ‍The Solution
Shukla Medical purchased a Markforged 3D printer capable of printing in continuous carbon fiber in 2017, and started using it to prototype their tools instead of using their CNC machine. It was a fantastic addition to the team's facility. "We put a lot of load on our instruments, and carbon fiber gives them a little more stiffness so it doesn't feel like it's a toy," says Adam Gosik-Wolfe, Mechanical Engineer at Shukla Medical. But Adam and the team wanted something more — they wanted metal prototypes to make it even easier for surgeons to imagine using the tool. Subramanya Naglapura, VP of Operations at Shukla Medical, also saw the potential and advocated for the Metal X's purchase. After a great experience with their Markforged carbon fiber 3D printer, the team made the decision to add a Metal X system — with full managerial support
Using 17-4 PH Stainless Steel, Shukla Medical was able to prototype in the same material as many of the final products. They now utilize their carbon fiber 3D printer for initial prototypes, and then the Metal X system for the final prototype that goes into the hands of surgeons for evaluation. "The surgeon can envision using it in the actual incision, and can tell us if it feels the right way in their hands," says Sweitzer. "Being able to prototype more efficiently and get finished products to market more quickly will keep us on the forefront of the industry." The continuous carbon fiber 3D printer is also used to make soft jaws for any of the Metal X parts that require post processing, making it and the Metal X the ideal 3D printing solution for the team.
"Being able to prototype more efficiently and get finished products to market more quickly will keep us on the forefront of the industry."
— Zack Sweitzer, Product Development Manager at Shukla Medical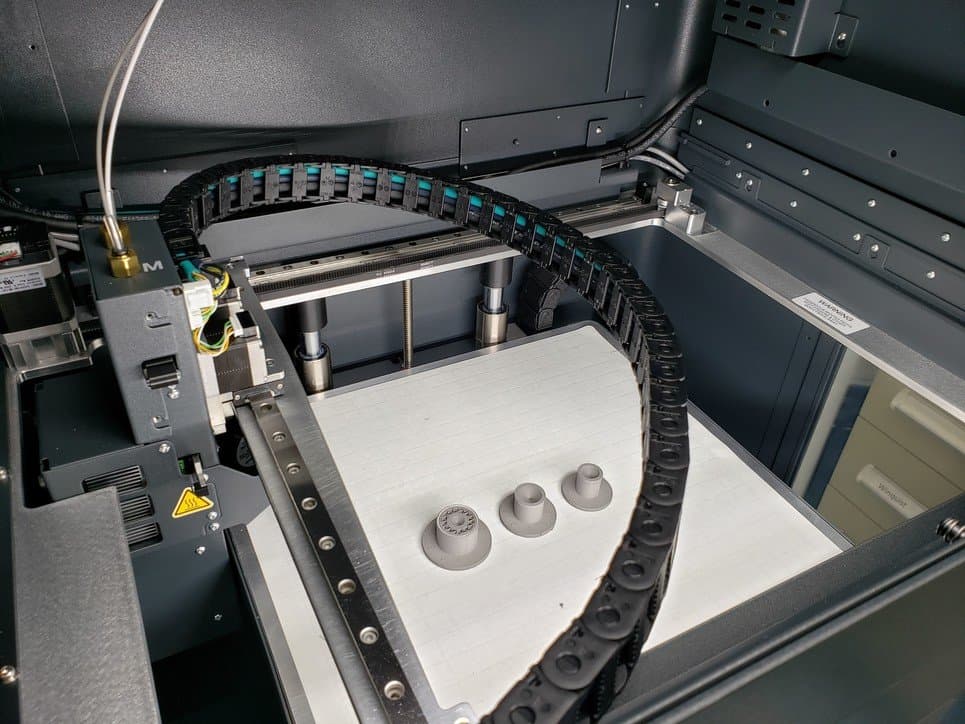 The Future
Shukla Medical has significantly reduced their product commercialization time by leveraging the carbon fiber 3D printer and Metal X system. Engineers at S.S. White Technologies — of which Shukla Medical is a subsidiary — often utilize the Markforged printers for tooling and fixtures for the aerospace, automotive, and medical industries. "We're going to bring a lot more products to market faster with our Markforged printers, and we finally have the design freedom to do it," says Sweitzer.
Credit: Markforged
Siemens Energy, Sweden
The Customer
Siemens Energy manufactures world-class gas turbines for industrial power generation and mechanical drive applications. Used for a variety of applications, including turn-key power station projects, Siemens power systems are frequently tailored for each customer project. One such area of customization is the fuel type used to power the gas turbine.
Siemens is also a pioneer in the field of additive manufacturing and has been driving its industrialization for over a decade. In 2012, they opened their first designated 3D printing workshop for serial manufacturing, repairs, and prototyping of metal components. The workshop is located Finspång, Sweden, as an integral part of the gas turbine manufacturing business.
Siemens Gas & Power utilized its industrial X7 printer for strong, stiff fixtures.
The Challenge
Recently the Siemens engineers in Finspång began 3D printing a specially designed fuel injector nozzle to react quickly to customers' customization requirements. They found that conventional methods of manufacturing were hindering the team from achieving higher customer benefits.
By additively manufacturing the fuel injector nozzles, the engineers were able to fabricate high-performing, complex parts faster than before. However, they also realized that the more intricate the 3D printed custom nozzles became, so too did the post-production machining. The necessary support structure required to 3D print the nozzle had to be milled away afterwards, and a special fixture had to be designed to do this. Conventional tooling could not reliably hold the nozzles without causing damage due to the thin, geometrically obscure nature of the nozzle walls. To outsource the geometrically complex, custom tooling would drive up lead time significantly.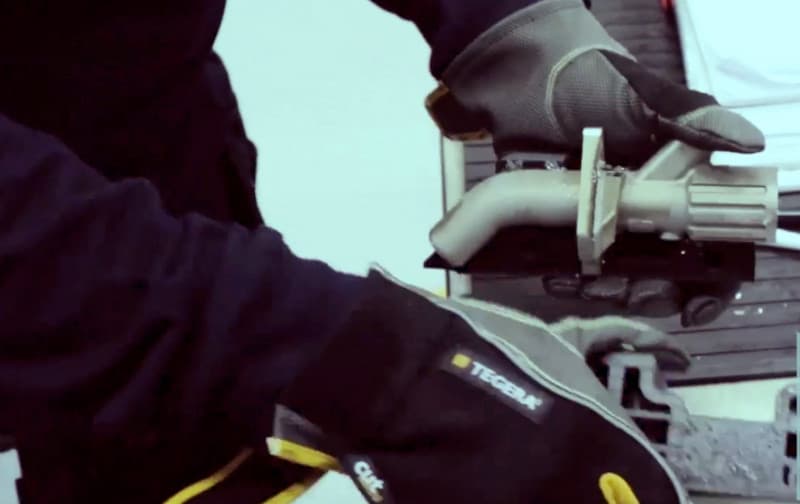 The fixtures allow Siemens engineers to machine the fuel injector nozzles.
"We become more flexible. We become faster. It [Markforged X7] is absolutely a lean tool."
— Andreas Graichen, Group Manager Additive Manufacturing Centre of Competence, Siemens Energy
The Solution
The Siemens team started to look to other options that could withstand use in industrial settings. Markforged technology — specifically the X7 — was found to be the most promising. With the unique capability to reinforce each layer with continuous strands of fiber, the X7 enabled the team to produce a smooth, quality surface finish unlike other plastic-based 3D printers. They utilized their industrial Markforged X7 printer to additively manufacture the fixtures that could hold the fuel nozzle in place for machining. "From concept to print, it saved us 10% of time compared to fabricating a conventional machined fixture," says Jonas Fagertoft, Additive Manufacturing Technician at Siemens in Finspång. Andreas Graichen, Group Manager at the Additive Manufacturing Centre of Competence at Siemens; "With Markforged technology, the design and the production of the holding devices was significantly faster and still strong."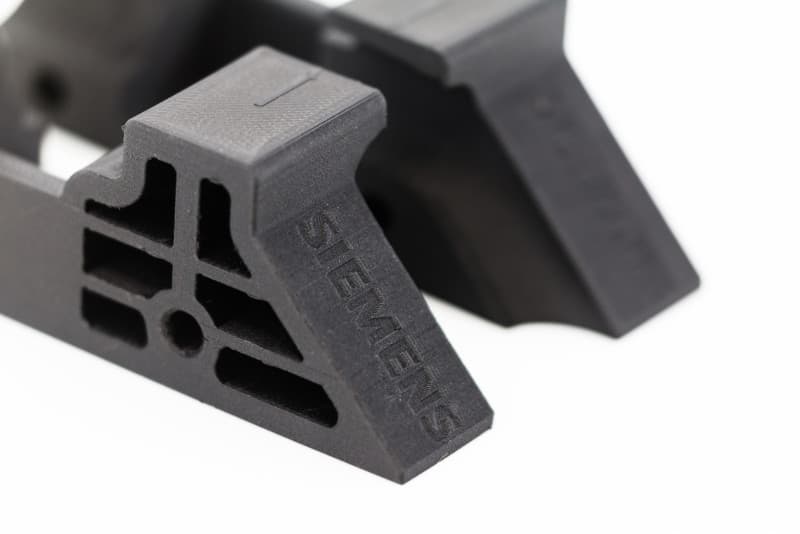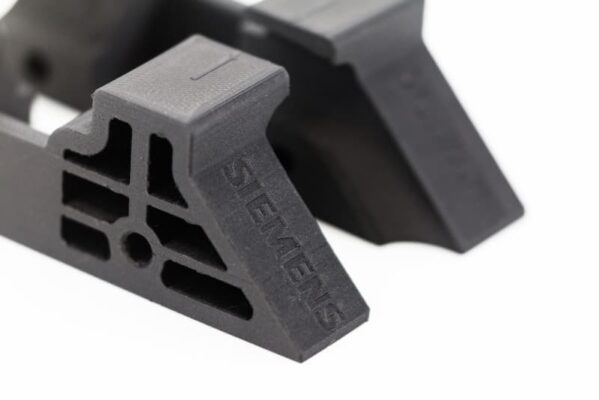 The holding devices are clamped on while the fuel nozzle is machined on a 5-axis mill.
The fixture allowed the Siemens technicians to clamp the geometrically complex fuel nozzle for machining on their 5-axis mill. As the metal part's walls were quite thin, they were concerned that the fuel nozzle might flex under machining loads. However, since the Markforged printed fixture was printed in Onyx — a nylon-based thermoplastic filled with chopped carbon fiber — the fuel nozzle could be clamped without it vibrating within the conformal fixture. The composite workholding has transformed the fuel injector nozzle from a machining challenge to an asset. The team is impressed with the quality and stiffness of the fixtures. "It's absolutely a lean tool," says Graichen of the X7. Fagertoft agrees, "The material itself is thoroughly impressive in terms of strength."
"You can basically make the impossible possible."
— Jonas Fagertoft, Additive Manufacturing Technician, Siemens Energy
The Future
Engineers at Siemens Energy in Finspång can continue to quickly iterate on designs for different customer needs. There are already plans in place to use Markforged technology for other significant tooling projects. Siemens employees are now empowered to take on new and existing projects with this newly gained knowledge. "We're looking forward to working with Markforged in our upcoming projects", says Graichen.
Credit: Markforged