Loved by our Customers. 5000+ Reviews
Free Returns and Free Shipping
Thai Version

High Performance 3D Printers, Finally Within Reach
Scale prototyping and production with affordable,
industrial-quality SLA and SLS 3D printers
"Formlabs: Redefining 3D Printing"
Formlabs emerged in 2011 with a simple goal – make professional-quality 3D printing accessible to all. Today, we are a global leader in Stereolithography (SLA) and Selective Laser Sintering (SLS) 3D printing, delivering powerful and easy-to-use solutions.
From medical research to footwear design, automotive manufacturing, and small businesses, our cutting-edge 3D printing technology is empowering innovation across various industries.
At Formlabs, we do more than creating 3D printers. We strive to equip you with the tools and resources necessary to bring your ideas to life, fostering a community of creators and innovators.
Join us on this exciting journey, as we continue to redefine the possibilities of 3D printing.
Visit the Formlabs website!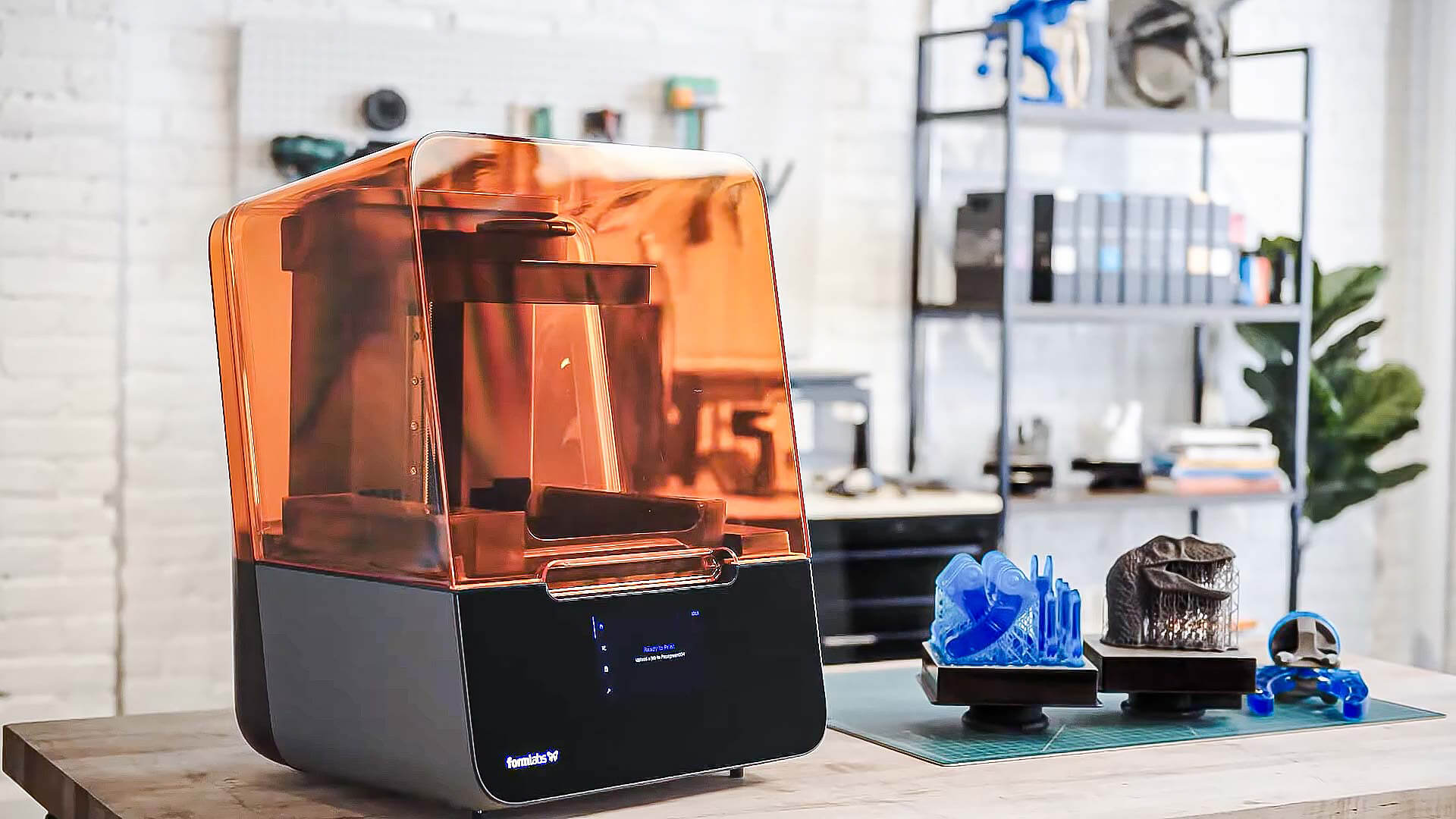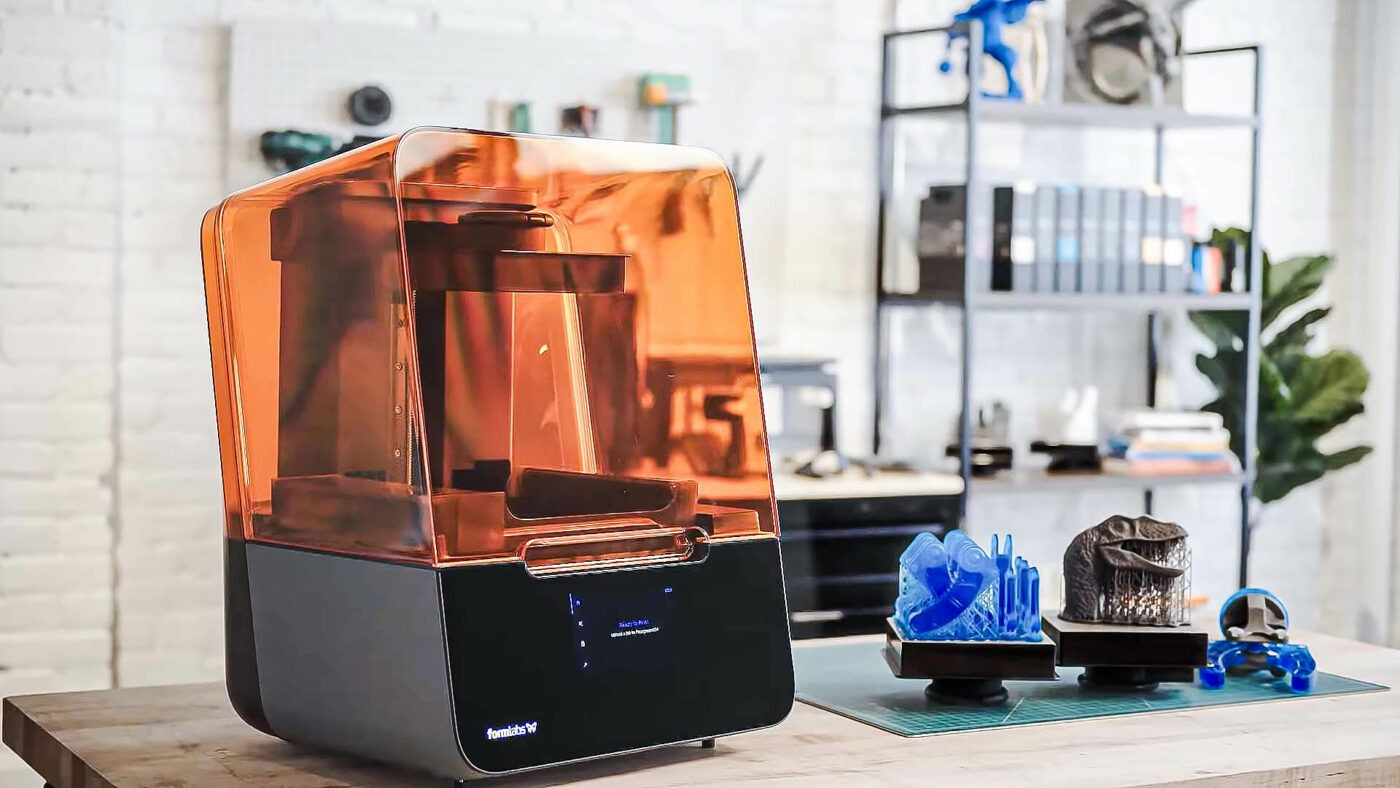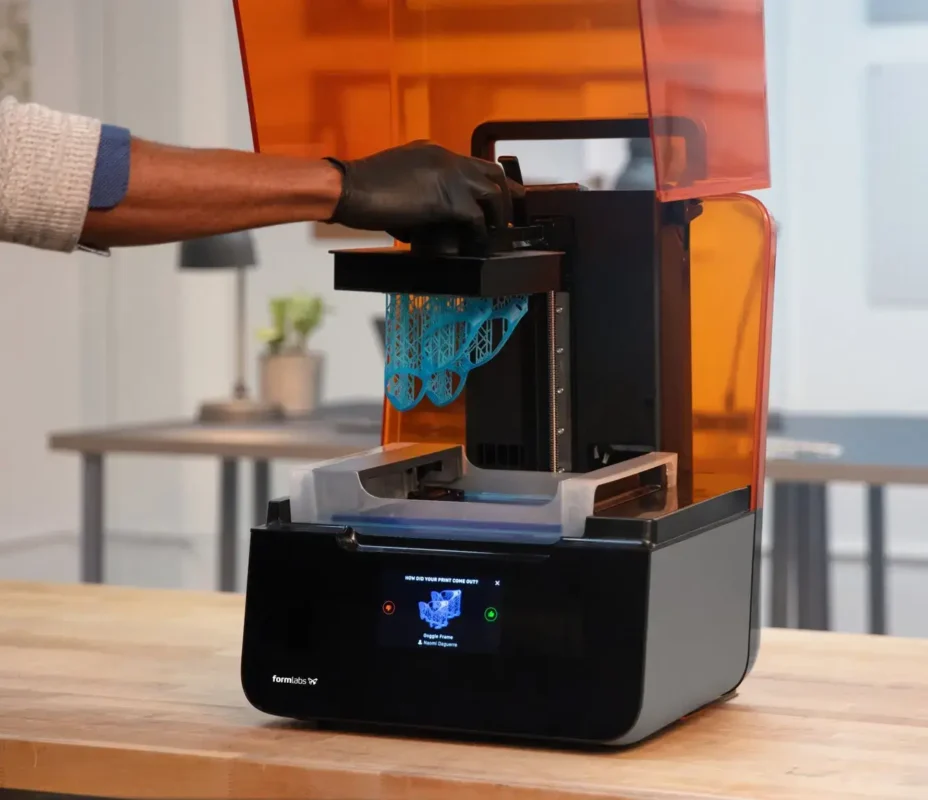 Stereolithography (SLA)
"Stereolithography (SLA): Formlabs' Game-Changer in 3D Printing"
With Formlabs' Stereolithography (SLA) technology, the future of 3D printing is here. SLA enables the creation of concept models, cosmetic prototypes, and intricate parts with unprecedented speed – delivering results in as little as a day.
Our SLA 3D printing process offers an array of material selections, exceptional feature resolution, and superior surface finishes. Whether you're aiming for aesthetic perfection or complex geometries, Formlabs brings your vision to life with unparalleled precision and quality.
Experience the revolution in 3D printing with Formlabs' SLA technology, where we turn the impossible into the possible.
SLA 3D Printers
SLA (Stereolithography Apparatus) 3D printers are a type of 3D printing technology that uses a light source, such as a laser or a UV lamp, to cure liquid resin into solid shapes.
The printer builds up the object layer by layer, tracing the shape with the light source and solidifying the resin as it goes.
The excess resin is drained away, and the object is rinsed and cured to achieve the final form.
SLA printers are known for their high precision and smooth surface finishes, making them popular in industries like dentistry, jewelry, and prototyping.
Post processing
Post-processing for SLA (Stereolithography Apparatus) 3D printers involves the steps taken after printing to turn the raw printed object into a finished product.
This typically includes washing the object to remove excess resin, curing it under UV light to strengthen the material and finalize polymerization, and possibly sanding or painting to achieve the desired appearance.
These post-processing steps are essential in SLA 3D printing to ensure the printed object has the correct mechanical properties and aesthetic quality.
Resins for SLA (Stereolithography Apparatus) 3D printers are special liquid polymers that harden when exposed to a specific light source, such as UV light.
These resins are used as the building material in SLA 3D printing. Available in various formulations, they can be tailored to achieve different characteristics in the final object, such as flexibility, strength, or transparency.
The choice of resin depends on the specific requirements of the project, and proper handling and storage are essential, as the resins can be sensitive to light and temperature.
Standard resins for SLA (Stereolithography Apparatus) 3D printers are general-purpose liquid polymers commonly used for a wide variety of applications.
These resins harden when exposed to UV light during the printing process, and they are typically characterized by their balanced mechanical properties, such as strength and flexibility.
Standard resins are ideal for prototyping, modeling, and other applications where specialized characteristics like high heat resistance or extreme flexibility are not required.
They are often more affordable than specialized resins, making them a popular choice for hobbyists and professionals alike.
Engineering resins for SLA (Stereolithography Apparatus) 3D printers are specialized liquid polymers designed to mimic the properties of traditional engineering materials.
These resins can provide specific characteristics such as enhanced strength, stiffness, heat resistance, or durability.
Engineering resins are typically used in applications that require more demanding mechanical properties, such as functional prototypes, tools, or end-use parts in industries like automotive or aerospace.
They allow designers and engineers to create complex geometries with properties closely aligned to the needs of their specific projects.
Jewelry resins for SLA (Stereolithography Apparatus) 3D printers are specialized liquid polymers formulated for creating intricate and highly detailed jewelry pieces.
These resins offer exceptional precision, allowing for the production of complex designs, including intricate patterns, settings, and gem-like structures.
Jewelry resins are commonly used by jewelers and designers for prototyping or producing end-use jewelry items such as rings, necklaces, and earrings, allowing for customization and unique design possibilities.
They often come with properties like high tensile strength and surface smoothness to achieve a polished finish.
Dental resins for SLA (Stereolithography Apparatus) 3D printers are specialized liquid polymers formulated specifically for the dental industry.
These resins are designed to create dental models, crowns, bridges, and other dental prosthetics with high precision and accuracy.
Dental resins must comply with stringent biocompatibility standards, ensuring they are safe for contact with oral tissues.
They often have properties such as color stability, wear resistance, and the ability to be easily cleaned and sterilized.
The use of dental resins in SLA 3D printing has revolutionized dental practices, offering quicker, more customizable, and often more affordable solutions for patients.
Medical resins for SLA (Stereolithography Apparatus) 3D printers are specially formulated liquid polymers designed for applications within the medical field.
These resins must meet strict biocompatibility and sterilization standards, as they may be used in implants, surgical guides, medical devices, or anatomical models.
Medical resins enable healthcare professionals to create patient-specific solutions, enhance surgical planning, and innovate in medical device development, contributing to more personalized and efficient healthcare.
Their properties can be tailored for specific medical applications, offering controlled flexibility, strength, and transparency.
Accessories for SLA (Stereolithography Apparatus) 3D printers encompass various tools and supplementary equipment designed to enhance or assist the 3D printing process.
Other accessories might be gloves and safety equipment for handling resins, specialized tools for post-processing, or software for designing and slicing 3D models.
These might include resin tanks for holding liquid polymer, build platforms where the object is constructed, UV curing lamps to fully harden the printed parts, and cleaning stations for washing excess resin.
These accessories can optimize the printing process, improve the quality of the final product, or make handling and post-processing more efficient and user-friendly.
Selective laser sintering (SLS)
"Selective Laser Sintering (SLS): Formlabs' Mastery in 3D Printing"
Experience the next level in additive manufacturing with Formlabs' Selective Laser Sintering (SLS) technology. SLS uses high-powered lasers to skillfully fuse finely powdered material into robust, solid structures, pushing the boundaries of what's achievable in 3D printing.
Formlabs' SLS technology ensures unparalleled precision, creating objects with high structural integrity and intricate detailing. The process allows for the creation of durable, functional prototypes or end-use parts that can withstand rigorous testing and use.
Embark on a journey of discovery with Formlabs' SLS technology, where we bring your most complex designs to life, crafting solid realities from powder-fine possibilities.
SLS 3D Printers
SLS (Selective Laser Sintering) 3D printers are a type of 3D printing technology that uses a laser to fuse powdered material, layer by layer, to build an object.
Unlike liquid resins in SLA printing, SLS uses powders, typically made of nylon, polymers, or even metals.
The laser selectively sinters, or fuses, the powder where the object needs to be formed.
Once a layer is complete, the printer adds a new layer of powder on top and continues the process.
After printing, the object is excavated from the loose powder, resulting in a solid, durable piece.
SLS printers are prized for their ability to create complex, robust structures without the need for support material.
Fuse 1+ 30W: Compact SLS 3D printer with industrial punch, unlocks unprecedented print speeds & materials.
Included:
Fuse 1+ 30W Printer 120V
Fuse Series Build Chamber 120V
Read more
Post processing
Post-processing for SLS (Selective Laser Sintering) 3D printers involves the steps taken after printing to finalize and refine the printed object.
Immediately after printing, the object is typically encased in a bed of loose, unfused powder, which must be carefully removed.
This can be followed by additional cleaning to eliminate any remaining powder, and possibly sanding to smooth the surface. Some objects may require heat treatments to improve mechanical properties or coatings to achieve desired aesthetics or functionality.
The post-processing stage in SLS is crucial to achieving the required finish and performance characteristics of the printed object.
Fuse Sift: All-in-one powder recovery station for Formlabs Fuse 1. Recycles 70% of used powder, automatically mixes fresh powder, removes unwanted particles.
Read more
Nylon powders for SLS (Selective Laser Sintering) 3D printers are a common type of material used in this printing technology.
A laser then selectively sinters, or fuses, the nylon powder together layer by layer to build the object.
Nylon is favored for its balanced properties of strength, flexibility, and durability, making it suitable for a wide range of applications, from prototypes to functional parts.
They are fine, powdered forms of nylon polymers that are spread in layers inside the printer.
Its versatility and relative affordability make nylon powders a popular choice in SLS 3D printing.
TPU is a flexible and elastic thermoplastic known for its resilience and durability. In the context of FDM 3D printing, TPU filaments can be used to print objects that need to bend or flex, such as gaskets, hoses, or protective cases.
Its combination of flexibility and strength makes TPU a unique and valuable material in 3D printing applications.
For Fuse series printers. Flexible parts that withstand everyday use. High tear strength and elongation for strong, durable and elastomeric parts.
Read more
Accessories
Accessories for SLS (Selective Laser Sintering) 3D printers include a variety of tools and supplementary equipment to support and optimize the SLS printing process.
These might consist of powder handling and recycling systems to manage the powdered materials, cooling units to regulate temperature, protective gear for safe handling of powders, and cleaning tools to remove excess powder from finished parts.
Software for design and process control, build platforms, and laser calibration tools may also be considered accessories.
These elements contribute to the efficiency, safety, and precision of the SLS printing process, enabling better control over the final product's quality and characteristics.
FAQs regarding Formlabs products
What materials can I use with Formlabs 3D printers?
Formlabs offers a wide variety of resin materials for different applications. This includes standard, engineering, dental, jewelry, and medical resins, each designed for specific applications and finishes.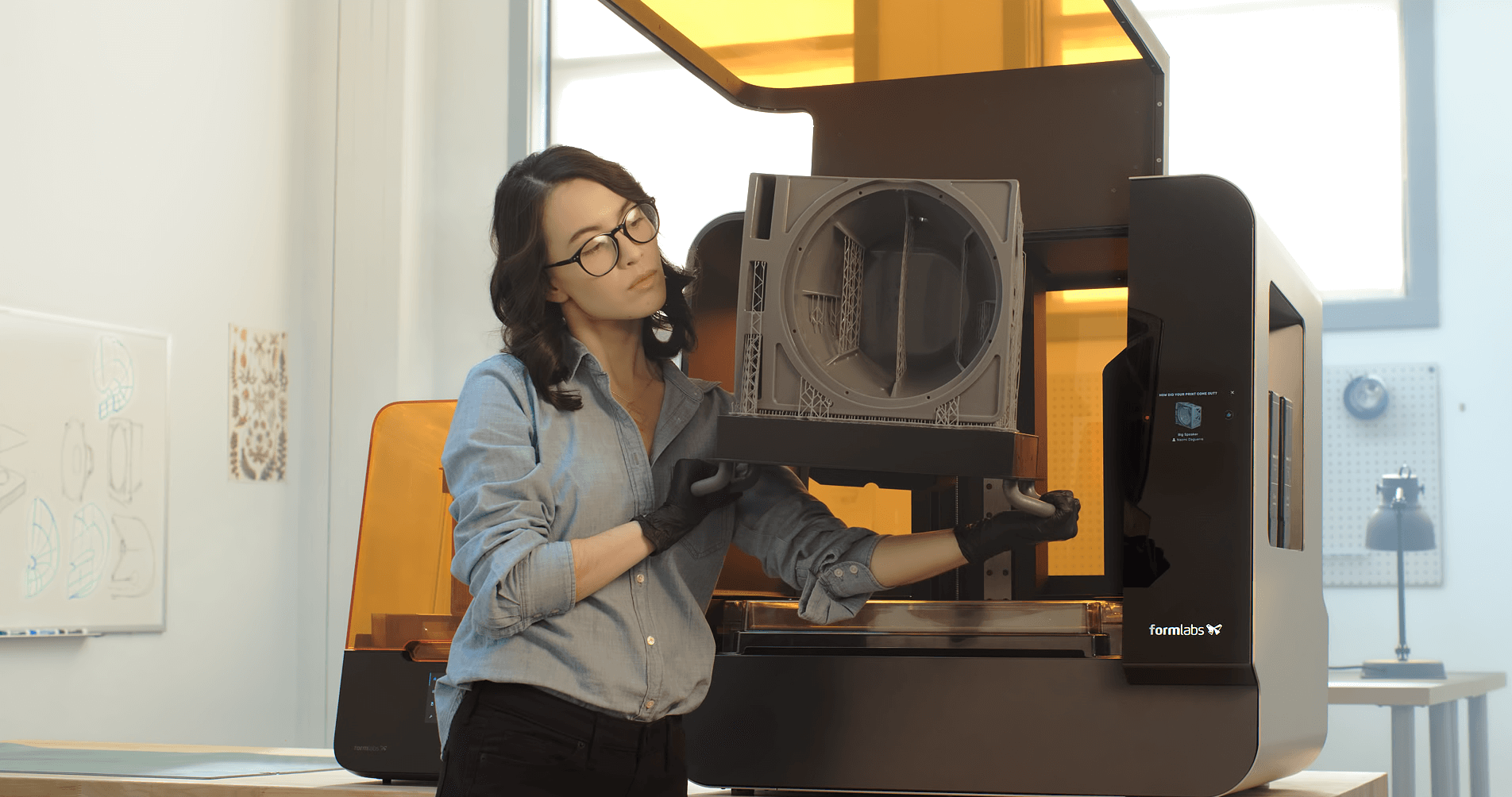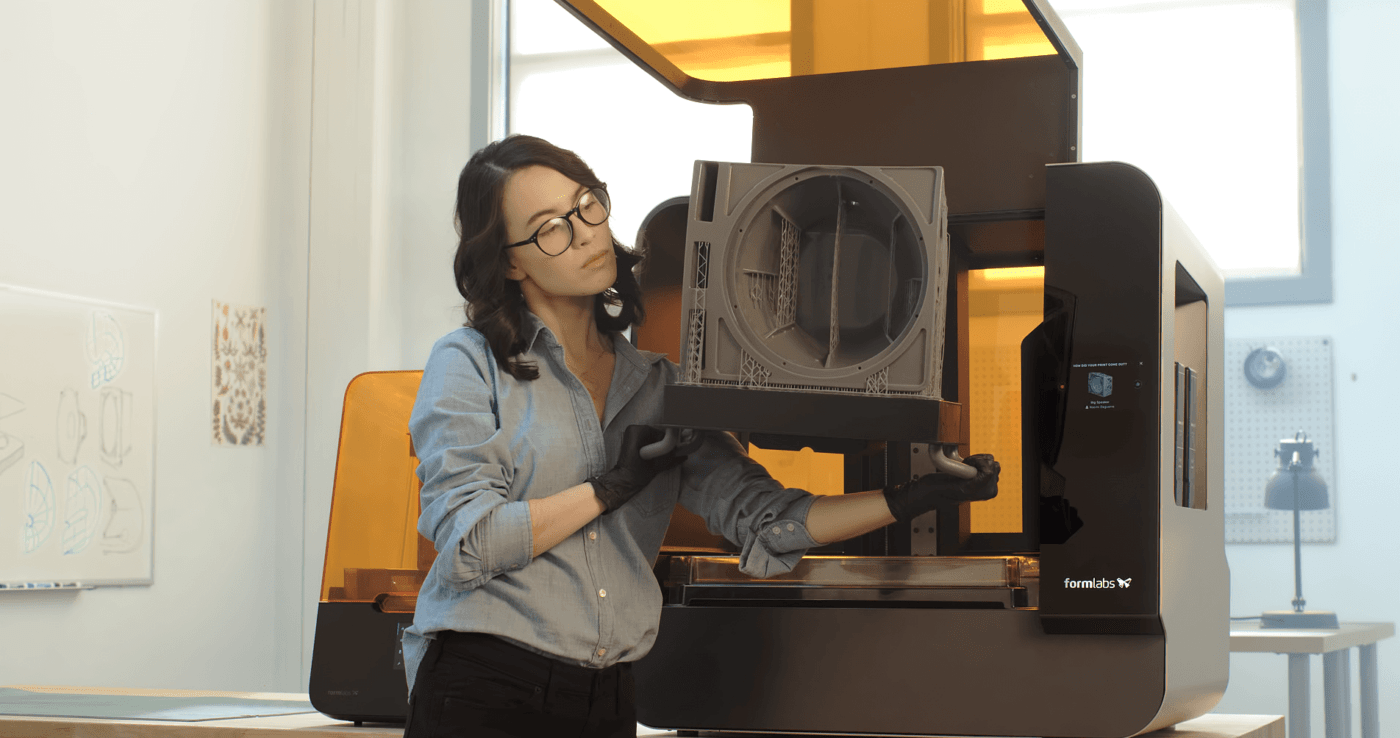 How do I maintain my Formlabs printer?
Maintenance requirements vary by model, but generally, you will need to clean the build platform and resin tank, update the firmware, and replace the resin tank and build platform as necessary.
What software is compatible with Formlabs printers?
Formlabs printers use a proprietary software called PreForm for print preparation. You can also import 3D models from CAD software in STL or OBJ formats.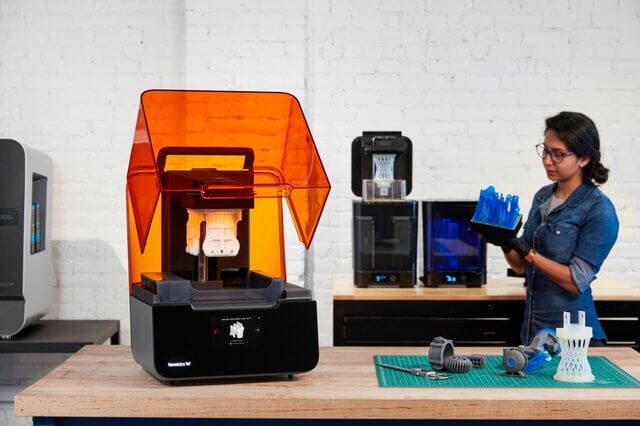 What is the resolution of Formlabs printers?
Formlabs printers use Stereolithography (SLA) technology, allowing for very high-resolution printing. The exact resolution can vary depending on the specific printer model and the print settings used.
What industries can benefit from Formlabs printers?
Formlabs printers are used in a wide variety of industries including engineering, manufacturing, dental, jewelry, education, and more. They can be used for creating prototypes, end-use parts, dental models, and much more.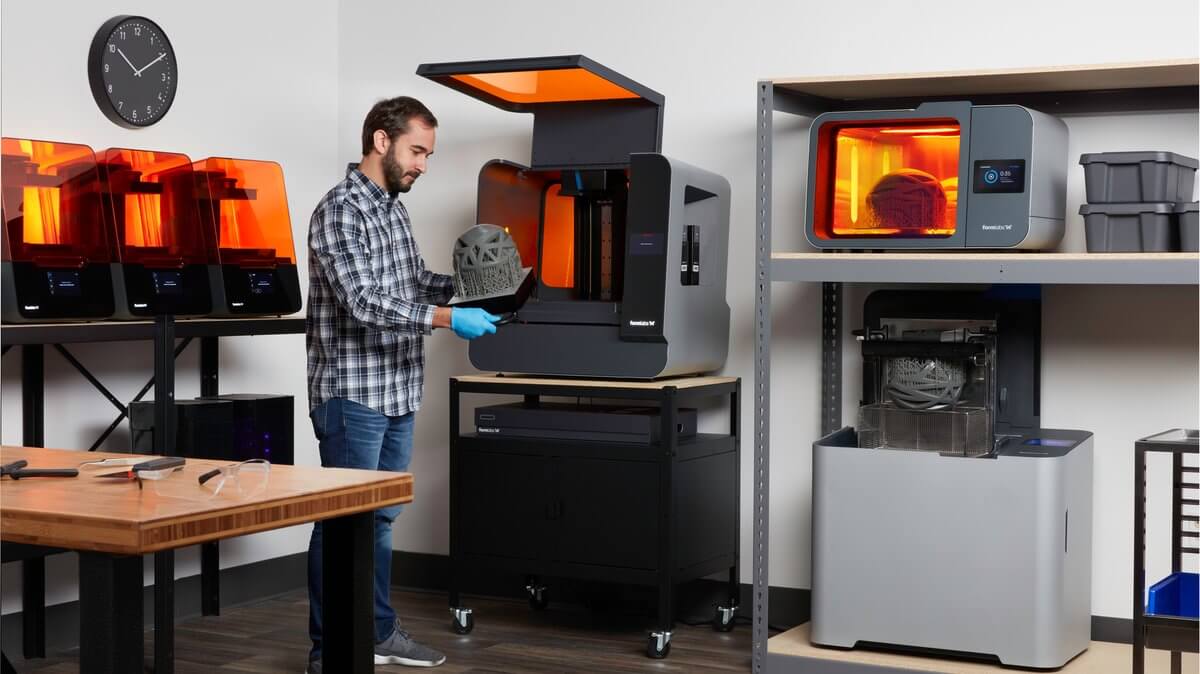 Can I print multiple items at the same time on a Formlabs printer?
Yes, the print volume of the printer determines how many items can be printed at once. As long as the items can fit within the printer's build volume, multiple items can be printed simultaneously.
What is the lifespan of a Formlabs printer?
The lifespan of a Formlabs printer depends on usage and maintenance. With proper care and regular maintenance, a Formlabs printer can last for several years.
How do I remove support structures from my print?
Formlabs' PreForm software generates supports that can be easily removed after printing. This can usually be done by hand or with the use of flush cutters.
Remember, for specific issues or queries, our support team is always ready to help.
Go to support page on Formlabs
More FAQs on Formlabs
Learn more about Formlabs
Read our blog posts here!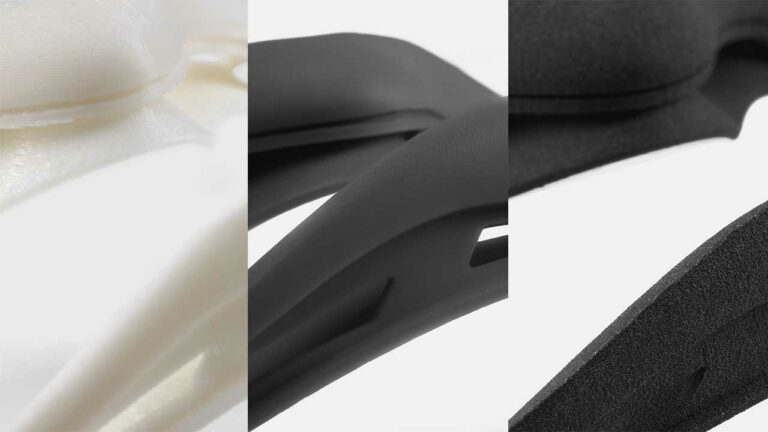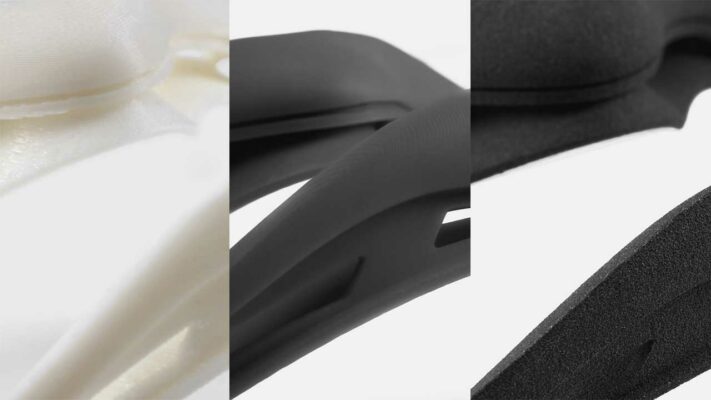 In this article, we'll take a closer look at the three most established technologies for [...]
Catch up with all the updates here!
Updates from Formlabs
Formlabs Form 3+
Limited-time offer: Price lowered!
Get a quote now and don't miss out!
Contact us today to learn more.
Check out Formlabs Form 3+
Exciting new product launches!
Silicone 40A Resin launch
Fuse Depowdering
Kit launch
With Formlabs' patent-pending Pure Silicone Technology™, customers can print 100% silicone parts with a 40A Shore durometer.
Kicking off a new era of accessible technical ceramics – with a high-purity alumina with exceptional thermal, mechanical, and conductive properties. Requires purchase/use of our proprietary Ceramic Wash Solution.
An all-in-one manual post-processing kit to easily clean SLS parts, and recover and mix used powder to prepare for the next print.