The 3D Printing Industry Awards returned in full force to highlight and champion the outstanding companies and people in our industry.
As voted for by our readers, the Awards represent the best hardware, software, and materials of the past year, the most innovative applications, and exceptional companies and individuals within additive manufacturing. As ever, the awards were hotly contested, with over 140,000 votes received on the shortlists.
Lists of company that won The 3D Printing Industry Awards in each industries
Desktop non-FFF 3D Printer of the Year
Shortlist
AnyCubic Photon

Creality Halot Sky

Elegoo Mars

Formlabs Form 3

Original Prusa SL1

Peopoly Phenom

Photocentric Liquid Crystal Precision 1.5

Sinterit Lisa Pro

Sintratec Kit

Sisma Everes
Winner : Formlabs Form 3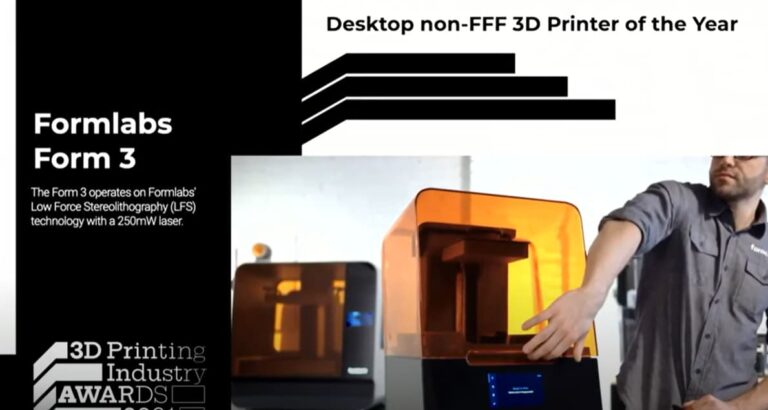 Scale prototyping and production as your business grows with the Form 3, an affordable, industrial-quality 3D printer that consistently delivers. The Form 3 is a part of a 3d printing ecosystem that's easy to learn and use and requires little intervention or maintenance. Watch the video to learn the basics of how to use the Form 3, from the software and materials to printing and post-processing.
Read more articles about Formlabs Form 3 :
Enterprise 3D Printer of the Year (Metals)
Shortlist
AddUp – FlexCare System

Desktop Metal Studio System

EOS M290

GE Additive X Line

GEFERTEC Arc Series

Markforged Metal X System

Xerox ElemX

Velo3D Sapphire System

Sciaky EBAM

SLM Solutions NXG X11 600
Winner : EOS M290
EOS said: "We're very honored that the M290 has been nominated and selected for this award by our users and our customers. We released the M290 in 2014 and have since installed over 1,000 M290s worldwide, making it the most popular metal AM system to date. We're obviously very proud that our customers continue to recognize this machine as their go-to for mid-frame systems and that it has become the benchmark for quality in the additive manufacturing industry.
EOS M 290 is a metal 3D printer with Direct Metal Laser Sintering technology. It has a powerful 400-watt fiber laser with exceptional high beam quality. The exceptionally high beam quality of the laser spot and the excellent detail resolution are ideal for producing highly complex components with homogeneous properties.
Read more articles about EOS M290 :
Software Tool or Company of the Year
Shortlist
3YOURMIND

Autodesk Fusion 360

Autodesk Netfabb

Chitubox

Dyndrite

Stratasys GrabCAD Print

Link3D

Markforged Eiger

Materialise Magics

Oqton's 'Additive' AI platform
Winner : Materialise Magics
Stefaan Motte, Vice President of Materialise Software, said: "Thanks to all of the voters, thanks for this great recognition. I think I speak for everyone when I say that it has been a really tough period with Covid and not being able to go out. I must say, in the past few months I am going out again, meeting customers, seeing what is happening with 3D printing on the shop floor, and it is always very rewarding to see Magics really ingrained within the processes and workflows of these champions of additive manufacturing and seeing how Magics enables them to do their magic.
THE MOST POWERFUL DATA AND BUILD PREPARATION SOFTWARE
Materialise Magics is a versatile, industry-leading data preparation and STL editor software for Additive Manufacturing that allows you to convert files to STL, repair errors, edit your design and prepare your build platform.
Read more articles about Materialise Magics :
Innovation of the Year
Shortlist
6K's UniMelt microwave-based technology

A*STAR SIMTech Laser Aided Additive Manufacturing (LAAM)

AMT's automated PostPro3D

EOS Laser ProFusion

Mechnano carbon nano-tubes

John Whitehead and Hod Lipson's inverted multi-material laser sintering

ETH Zurich's Eggshell 3D printing

Meltio multi-material 3D printing

Azul 3D's High Area Rapid Printing (HARP)

3D Systems' Print to Perfusion bioprinting platform
Winner : 3D Systems' Print to Perfusion bioprinting platform
Aerospace, Automotive, Energy
Shortlist
3D Systems' RF filter for Airbus aerospace

3t AM & Aston Martin

Porsche with MAHLE and Trumpf

AON3D & Astrobotic's Peregrine Moon Lander

BAC Mono – Ultimaker

Burloak Technologies & Safran titanium landing gear

Neutron 3D printed launch vehicle by Rocket Lab

CRP Technology & LISA laboratory flight-ready 3U CubeSat

KLM Royal Dutch Airlines

Marshall Aerospace and Stratasys
Winner : 3D Systems' RF filter for Airbus
Medical, Dental, or Healthcare Application
Shortlist
Binder jet-based food printing – Creative Design and Additive Manufacturing Lab, University of Auckland

CELLINK bioprinting

Dunlee Anti Scatter Grids

ACEO3D facial prosthetics

Marvel Medtech and XJet

MIT Project Manus

Photocentric and NHS

Sintratec and AFSP

Swansea University 3D printed ear cartilage

The Satchi-Fainaro Lab, Tel Aviv University, 3DCanPredict ERC project, 3D bioprinted glioblastoma model
Winner : The Satchi-Fainaro Lab, Tel Aviv University, 3DCanPredict ERC project, 3D bioprinted glioblastoma model
Academic, Research Team, or Project of the Year
Shortlist
AMable

Meso-Brain, Aston University

CIM UPC

Creative Design and Additive Manufacturing Lab, University of Auckland

Digital Reconfigurable Additive Manufacturing facilities for Aerospace, MTC, UK

Prof. Randy Erb and the DAPS Lab at Northeastern University

BARBARA Project

LASIMM

Avio Aero TAL and Apulia Repair Development Center Laboratories

Jennifer Lewis and the Lewis Lab at Harvard University
Winner : Creative Design and Additive Manufacturing Lab, University of Auckland
Material Company of the Year
Shortlist
3M

WINNER: Fillamentum

BASF Forward AM

Carpenter Technology

CRP Technology

DSM

Evonik

Filamentive

Henkel

Kimya
Winner : Fillamentum
TÜV SÜD Sustainability in Additive Manufacturing
Shortlist
6K Additive

Additive Manufacturer Green Trade Association (AMGTA)

Desktop Metal Forust Printer

EOS Responsible Manufacturing Initiative

NonOilen by Fillamentum

Fishy Filaments

Liqcreate and Stenden University

Materialise Bluesint PA12

Siemens Energy AM row 1 turbine vanes

TWINE by Hagen Hinderdael, AI Build & Reflow
Winner : Fishy Filaments
Creative Use of 3D Printing Award
Shortlist
Adidas Futurecraft 4D (Carbon)

Google & Scan the World

Dr. Mingjing Lin

Avio Aero – Design for Additive Team

BattleBots and Markforged

Camper and BCN3D

Carbon for the Specialized S-Works Power Saddle with Mirror Technology

University of Tübingen & Graz University of Technology elephant trunk robot

TRAFFIC

Lidewij van Twillert
Winner : Adidas Futurecraft 4D (Carbon)
Start-up of the Year Award
Shortlist
Print Parts

Mechnano

Digital Manufacturing Centre (DMC)

9T Labs

Triditive

Relativity Space

Slice Engineering

ICON

nFrontier

VoxelDance
Winner : Slice Engineering
Enterprise 3D Printer of the Year (Polymers)
Shortlist
BCN3D Epsilon

Carbon L1

Desktop Metal Fiber

EOS Formiga P110 Velocis

EOS P 500

Stratasys J850

HP 580 MJF Color

HP MJF 5200

Makerbot METHOD X

Markforged X7
Winner : Carbon L1
3D Printing for a Better World Award
Shortlist
3D Life Prints

3DP4ME: 3D printing of hearing aids

Carbon and Resolution Medical

Advanced Manufacturing Crisis Production Response (AMCPR)

e-Nable

EOS initiative 3D Printing Against Corona

GE9X engine turbine blades at Avio Aeros Cameri

Blue Tap's water purification technology

Swiss MAM

Texas Tech University Health Sciences Center El Paso and the University of Texas at El Paso's artificial mini hearts
Winner : EOS initiative 3D Printing Against Corona
Value-added Reseller of the Year Award
Shortlist
3D CRIAR

3DChimera

3DGBIRE

3DJake

3DZ

Tritech

VisionMiner

Additive X

MatterHackers

iGo3D
Winner : MatterHackers
3D Scanning or Metrology Company of the Year
Shortlist
Artec 3D

Calibry – Thor3D

Creaform

FARO

GOM

Hexagon

Peel3D

Scan The World MyMiniFactory (STW Photogrammetry)

Nikon Metrology

Shining 3D
Winner : Scan The World and Google Arts & Culture
Company of the Year (Enterprise)
Shortlist
3D Systems

AddUp

Autodesk

Carbon

Desktop Metal

EOS

GE Additive

HP

Markforged

Materialise
Winner : Autodesk
Company of the Year (Personal)
Shortlist
3DGBIRE

3DGence

Prusa Research

BCN3D Technologies

Dyze Design

E3D Online

Formlabs

Lulzbot

Lumi Industries

Slice Engineering
Winner : Prusa Research
Desktop FFF 3D Printer of the Year
Shortlist
Anycubic Vyper

Artillery Sidewinder

Creality CP-01

Creality Ender 3 Pro

LulzBot Taz SideKick 747

Flashforge Adventurer 4

Trilab DeltiQ 2

ORIGINAL PRUSA i3 MK3S

E3D Toolchanger

Snapmaker 2.0
Winner : ORIGINAL PRUSA I3 MK3S
Community Advocate of the Year Award
Shortlist
Eurico Assunção, IAMQS Coordinator

Gil Lavi, 3D Alliances

Mara Hitner, VP of Strategic Partnerships, MatterHackers

Matthew Griffin, Director of Community Development, Ultimaker

Integza, YouTuber

Olaf Diegel, Professor of Additive Manufacturing, Creative Design and Additive Manufacturing Lab, University of Auckland

Peter Rogers, Autodesk

Prof Ho Chaw Sing, NAMIC Singapore

Stephan Henrich, Designer & Lecturer Robotic Design and Architecture

Uncle Jessy, YouTuber
Winner : Integza
From the 3D PRINTING INDUSTRY AWARDS 2021 this time shows that companies around the world today used 3D printing technologies in the manufacturing process or used to provide services. This indicates its popularity and usage trend that will increase in the future. Making companies that do not know or have never used 3D printers before should turn their attention and try to apply this technology to their business. To help develop and increase the efficiency of the production of parts.
For businesses or entrepreneurs in Thailand that interested in using the service or buying a 3D printer. There is no need to order from overseas companies. You naow can contact to buy 3D printer in Thailand through Septillion, the importer and distributor of famous 3D printers brands from around the world. with products and a comprehensive service from consulting on 3D printing services. We have a wide variety of 3D printed materials to choose from. There is also a training service and the most comprehensive machine maintenance service available for all customer.
---
Credit :
https://3dprintingindustry.com/